FibeAir 3200T
A Next Generation Long-Haul Wireless Solution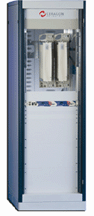 Description

The innovative FibeAir 3200T was designed as an ideal wireless networking solution for end-to-end long distance connectivity allowing the deployment of voice and data services for fixed and mobile backhaul networks. Quickly and easily deployed, the FibeAir 3200T all indoor system represents an economical alternative to fiber optic lines and is a highly reliable point-to-point backbone transmission system.

The FibeAir 3200T long haul solution includes value added features such as full TDM and IP capabilities and unique flexibility options. The FibeAir 3200T uses the same hardware for both split-mount and all indoor installations providing the customer with maximum flexibility to meet the wide range of custom requirements.

Packed with the latest generation technology and costsaving features, FibeAir 3200T is your best all indoor radio choice for effective long-haul telecommunications.

Features
Full indoor structure
Frequency range of 6-11 GHz
Ultra high transmit power: 32 dBm
Configurable capacity: from 45 Mbps to N+N x 155 Mbps
Variety of interfaces including TDM & IP
Same hardware as split mount installation type
Configurable modulation: QPSK/32/64/128/256 QAM
Configurable channel bandwidth: 10/28/30/40 MHz
Innovative digital IF combiner
Built-in XPIC (Cross Polarization Interference Canceller) with Co-Channel Dual Polarization (CCDP)
ATPC (Automatic Tx Power Control)
Simple and flexible installation
Compact dimensions & light system
N+1 ready
Compliant with ETSI, FCC, ITU-T, ITU-R
ETSI or standard 19" inch

System Overview

A member of the FibeAir family, FibeAir 3200T provides wireless high capacity data transmission over long distances, in a wide variety of network capacities, frequencies and configurations. FibeAir 3200T operates in the frequency range of 6-11 GHz and can be easily upgraded from 45 Mbps up to N+1 x 155 Mbps. The system components are all indoor and installed in ETSI or standard 19" inch rack.

For maximum versatility and transmission efficiency, the Radio Frequency Unit (RFU) is equipped with space diversity capability. The unit includes two receivers and one transmitter, extremely high transmit power and IF combining mechanism. The built-in diversity in each transceiver significantly enhances the resiliency of the link.

With its reliable fiber-like transceiving quality and protection capabilities, FibeAir 3200T is a dependable telecommunications solution for different network topologies, such as chain, ring, mesh and star.

Home | Products | Services | Request Info | About Us | Contact Us
_____________________________________________________________

Toll Free (888) 224-6814 | Fax (603) 878-0530 | sales@mmWaves.com
© 2023 mmWaves : ver 2.0 - All Rights Reserved