Cellular, PCS, 2G/3G Networks - high speed links between cell sites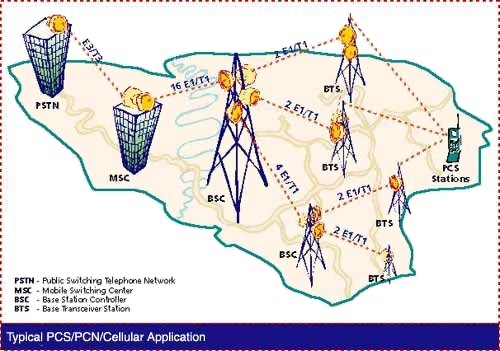 Typical Cellular/Broadband PCS Network for Mobile Communication

Cellular and PCS networks consist of the following elements: subscriber handsets devices, base transceiver stations which provide radio frequency coverage, and base station controllers (mobile telephone switching offices - MTSOs) which handle link handoffs (roaming), administer the local register routing table and concentrate and route the traffic of several base stations to a central office switching center.
Because of the tremendous growth in subscribers experienced recently, cellular service providers are reaching or exceeding the maximum design capacity of their macrocellular networks, especially in densely populated urban areas. Also, these providers need to improve their coverage in areas with tall obstructions such as buildings and hills that degrade reception. In response, these providers are considering augmenting their networks with microcellular links.
Microcellular technology uses smaller, lower powered cell sites (service radius is usually less than a mile) to provide cellular coverage in rough terrain and increased capacity in areas with heavy cellular traffic.
Cellular operators mainly utilize millimeter wave radio links for Base Transceiver Station (BTS) interconnections, BTS to Base Station Controller (BSC) and BSC to BSC interconnections. Higher capacities are required as we go closer to the Public Switching Telephone Network. Unlike the competition that requires a different radio for different capacities, the WL-2000 scalable radio fits into all sections. ONE radio link is suitable for all interconnection needs, with scalable capacity as more subscribers demand higher interconnection capacities. When higher capacities are needed, simple-software configuration selects the required capacity. There is no need to replace radio links when higher capacities are required. WL-2000 enables seamless future capacity upgrades, protecting customer investment, reducing logistics, spare parts and product stocking.

Wireless local loop (WLL) networks provides an ability to rapidly and cost-effectively introduce local access in a variety of service environments ranging from dense urban to dispersed rural areas. Wireless systems in emerging markets were originally deployed to provide premium services to a mobile subscriber base. However, middle and lower income countries have driven mobile network providers into a new business - the substitution of wireless service for fixed service, i.e. 'fixed wireless' networks, providing cost-effective "last mile" service. In situations where no wireless infrastructure exists, as is the case in many or most wireless local loop networks, the company's radios are the carrier's only alternative for cell-site interconnection.



This is sometimes referred to as business bypass. In this situation, alternative carriers, such as competitive access providers, will use radio links to establish standard telecommunications links between their customers' sites and their backbone networks.
In response to this huge market opportunity competitive access providers (CAPs) are deploying local area networks to provide cost-effective local area telephone service and to provide their customers with cheaper long distance services. The long distance carriers also benefit from more cost-effective local area access. CAPs will typically construct a SONET ring around a metropolitan area and then run access lines from this backbone network to gain access to a customer's site. In addition to the cost-intensive task of laying copper or fiber to establish access to the backbone network, these carriers frequently have difficulty gaining rights of way to lay these wireline links. An attractive solution to this problem is to gain roof rights on their customers' buildings and mount a high-frequency antenna for the purposes of establishing network access using high-frequency radio links.
High-frequency radio links present the most economical solution for reaching its customers.
Network redundancy is required (a wireless back-up in case the wireline access facilities fail).
The company does not have wireline infrastructure in place.
Private Networks - Wireless Bridged LANs

High Frequency radios are also used to provide communications links for private networks. For companies requiring frequent communications into areas without extensive telecommunications infrastructure or in areas where the cost of local access is high, installing and maintaining a high frequency radio network can be very cost effective. Typical users of private networks include: government agencies such as land management, municipal agencies, and universities; large utilities such as oil, gas, and electric concerns; and companies with widely deployed assets such as railroads and timber resource managers. Defense, Health Care, Cities (disaster recovery), Airlines, Manufacturing, Banks, are some additional examples.

The Internet is unquestionably one of today's hottest topics, linking hundreds of millions of users, computers and local networks. The fast Return of Investment (ROI) of high-frequency radio systems compared to leased lines and other alternatives makes wireless radios very attractive. The appetite for higher Internet access speeds stimulates demand for faster Internet Service Provider (ISP) backbones and ISP connections to business customers as well as Multi Tenant/Multi Dwelling Units (MTU/MDU's). The WL-2000 scalable radio, particularly with the 10/100Base-T+4DS1/E1 interface, is perfectly suited for these types of applications. When higher capacities are needed, simple-software configuration selects the required capacity. There is no need to replace radio links when higher capacities are required. WL-2000 enables seamless future capacity upgrades, protecting customer investment, reducing logistics, spare parts and product stocking.
The Service Provider market segment also includes providers of video-on-demand, gaming, video conferencing and billing.
The following figure shows how high-frequency radios are used for backhaul connectivity between Point of Presence (POP) sites, between POP's and Business customers as well as MTU/MDU's.

Asynchronous Transfer Mode (ATM) technology is based on the efforts of the ITU-T to develop Broadband Integrated Services Digital Network (BISDN) for the high-speed transfer of voice, video, and data through public networks. As ATM and FR networks evolve, there are economical incentives to use wireless media.

Home | Products | Services | Request Info | About Us | Contact Us
_____________________________________________________________

Toll Free (888) 224-6814 | Fax (603) 878-0530 | sales@mmWaves.com
© 2023 mmWaves : ver 2.0 - All Rights Reserved