WV-EM: SNMP Element Manager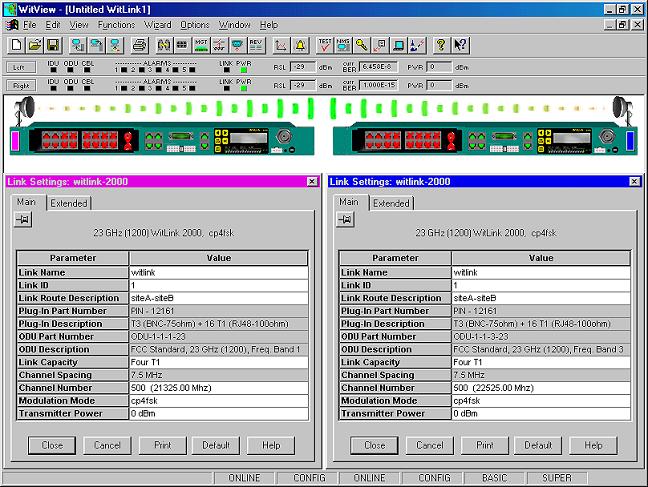 WV-EM™ is an intuitive, pro-active element network management system with enhanced diagnostic and performance monitoring tools. It provides open, reliable and user-friendly GUI-based SNMP management. Based on a standard SNMP platform, WV-EM™ can be integrated with HP OpenView™ or used as a standalone management application.
WV-EM™ supports local and remote terminal configuration, status/alarm reporting, traps, statistics (per G.826) and diagnostics. WV-EM™ provides the SNMP tool to proactively manage all links from a single operator console over IP. WV-EM™ runs on Microsoft Windows ® 95/98/2000 or NT stations. The embedded SNMP agent in each WL-2000 ® IDU implements standard IEFT/RFC MIB II Ethernet, E1/DS1, E3/DS3 MIBs, and private WL-2000 ® MIB extensions that enable remote monitoring and control of the entire link or complete network from a single point. An incorporated RIP Protocol enables simultaneous management of all radio links. All radio links can be easily in-band or out-of-band controlled from the management station. All system parameters are software configurable. Trivial File Transfer Protocol (TFTP) enables remote software upgrading.

Home | Products | Services | Request Info | About Us | Contact Us
_____________________________________________________________

Toll Free (888) 224-6814 | Fax (603) 878-0530 | sales@mmWaves.com
© 2023 mmWaves : ver 2.0 - All Rights Reserved