GE80/AR80 Gigabit Wireless Link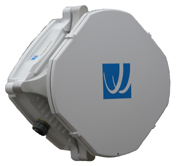 High-Performance, Affordable, E‑Band Gigabit Ethernet Wireless Link
GE80 and AR80 E-Band Gigabit Ethernet wireless links are the most affordable E-Band (71-86 GHz) products, providing highly-available wireless connections at full GigE data rates. These point-to-point links transmit and receive simultaneously at full-rate GigE speeds (1.25Gbps) with very low latency, providing the performance of physical fiber over a highly-secure wireless connection. The radios feature small form-factor and easy to install and align one-foot antennas. Combined with the E-Band's quick and simply lightweight licensing program, you can get a license and install a link the same day.
GE80 links consist of a pair of fully-integrated outdoor radios that connect directly to the end-user's GigE switches or routers. The radios are mast-mounted, and are easy to install and maintain. To deploy and operate the systems, simply connect a pair of fibers and a pair of low-voltage power wires, aim the radios to point at one another, and perform a few simple steps to configure the built-in web browser-based network management system.
AR80 links add breakthrough AdaptRate capability. The AR80 is the only E-Band link on the market that quickly shifts between 1000Mbps and 100Mbps data rates in order to overcome the effects of short-lived cloud-burst downpours. This allows AR80 links to be deployed at distances that traditionally required the use of bulky and harder to install two-foot antennas.
Enterprise customers use E-Band links to extend their LAN backbones between nearby buildings, or to connect their buildings over longer distances via metro fiber backbones. By extending LAN backbones between buildings, users can centralize servers to save IT costs and simplify administration, or distribute servers between buildings to provide for rapid disaster recovery.
Network operators use E-Band links to provide private network services to enterprise customers or to implement "virtual fiber" distribution networks to deliver broadband services to residential or business users. GE80 links naturally combine with fiber optic cabling to create highly cost-effective hybrid fiber-wireless networks, where each technology is best suited.
Key Features
Full Gigabit Ethernet Performance: 1000BaseSX interface. Full duplex, full rate, non-blocking. Latency below 50 microseconds.
Lightweight Licensing: Obtain a license in minutes using the automated on-line E-Band link registration database.
Interference-Free Operation: Narrow, point-to-point beams and the automated link registration interference check process provide immunity to interference and allow co-location of multiple links.
Easy to Install and Maintain: Simple, intuitive installation using a voltmeter and supplied test cable. No maintenance required.
Highest Quality: Every unit is subjected to state-of-the-art highly accelerated system screening (HASS) to prevent pre-mature field failures.
Forward Error Correction: Allows error-free operation at one-quarter of the receive signal strength of competing units, providing increased link distances.
Download the GE80/AR80 data sheet - PDF Version


Home | Products | Services | Request Info | About Us | Contact Us
_____________________________________________________________

Toll Free (888) 224-6814 | Fax (603) 878-0530 | sales@mmWaves.com
© 2023 mmWaves : ver 2.0 - All Rights Reserved